HDMI (High-Definition Multimedia Interface)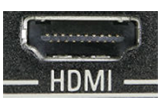 The HDMI port is present on all of the newer HDTV sets, though not all computers and laptops have it. If you have HDMI ports on both your computer and your TV, then you are in luck as it is probably the easiest way to connect and provides the highest quality video and audio signals.
DVI (Digital Visual Interface)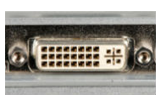 The DVI port can be found on many of the older LCD TVs. It only has video interface (no audio interface), which means the video quality is even stronger, but you will also need to buy an audio cable if you wish to hear sound through your TV.
VGA (Video Graphics Array) – 15 Pin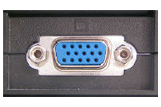 The VGA port can be found on nearly every HDTV, though you probably won't find it on older TVs. VGA cables only transfer video signals, so you will need to hook up audio separately.
DVI to HDMI Cable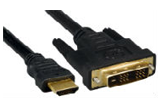 If you have an HDMI port on your TV but not on your computer, you can always use a DVI to HDMI cable. It has a DVI port on one end and an HDMI port on the other.
VGA to DVI Cable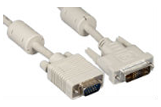 If your TV has a DVI port but your computer doesn't, you can use a VGA to DVI cable as long as your computer does have a VGA port.
PC to TV Converter Box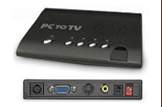 If none of the above options are available, you may want to get a PC to TV converter box. These are used for converting digital signals into analog. If you only have RCA inputs on your TV (red, yellow, white input), this is probably your best bet for connecting your computer to your TV
After establishing a connection with the necessary cable(s):
- Check your computer screen resolution and aspect ratio settings (Make sure the screen resolution matches that of your TV, or else it will result in poor video quality). You can refer to the TV manual to find the screen resolution of your TV.
Here are instructions on how to adjust the screen resolution on your computer (with Windows)
Right-click on your desktop screen and select Personalize from the menu that pops up (Windows Vista, Windows 7).
Click on Display settings or Screen resolution if you already see that option in the first menu.
Adjust the screen resolution with the slider bar (either vertically or horizontally), preferably to the same resolution as your TV for optimum quality. You may first have to click on Screen resolution to bring up this option.
Change Display to Projector
Click on the Windows Start button > Type Displayswitch in the Windows search menu (see image 1 below).
Click on Display Switch when it pops up in the search. This will launch the Projector Display Switch menu (see image 2 below)
Choose either Duplicate or Extend.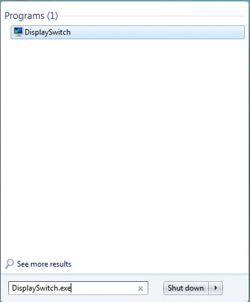 You can also use Windows Mobility Center, if you have it, for quick connection. Just click on Connect display and you'll be able to adjust all of your display settings.
Below are instructions on how to adjust your screen resolution if you have a Mac operating system:
Click on the Apple logo on the top-left corner of your screen.
Click System Preferences, then click Displays.
Click Display unless it is already selected.
Select your preferred resolution from the list of options (most common screen resolution for standard screens is 1280 x 1024, wide screens - 1280 x 800).